Casual Pant Variations
I was in desperate need of a couple pairs of casual pants and always find RTW pants fit me terribly so I decided to take a stab at making my own jeans.  I used Vogue V8330 which I had purchased at a thrift store a couple years ago for $1.99 and was surprised to find the pattern had never been used and was in perfect condition!  Aside from one mistake in the pattern (Step 49 tells you to "press under 5/8″ on long unnotched edge of waistband facing" while the illustration shows the notched edge being pressed under…either way, it is the longest side that needs to be pressed) it is very easy to follow though I am not sure if the sizing is all that accurate.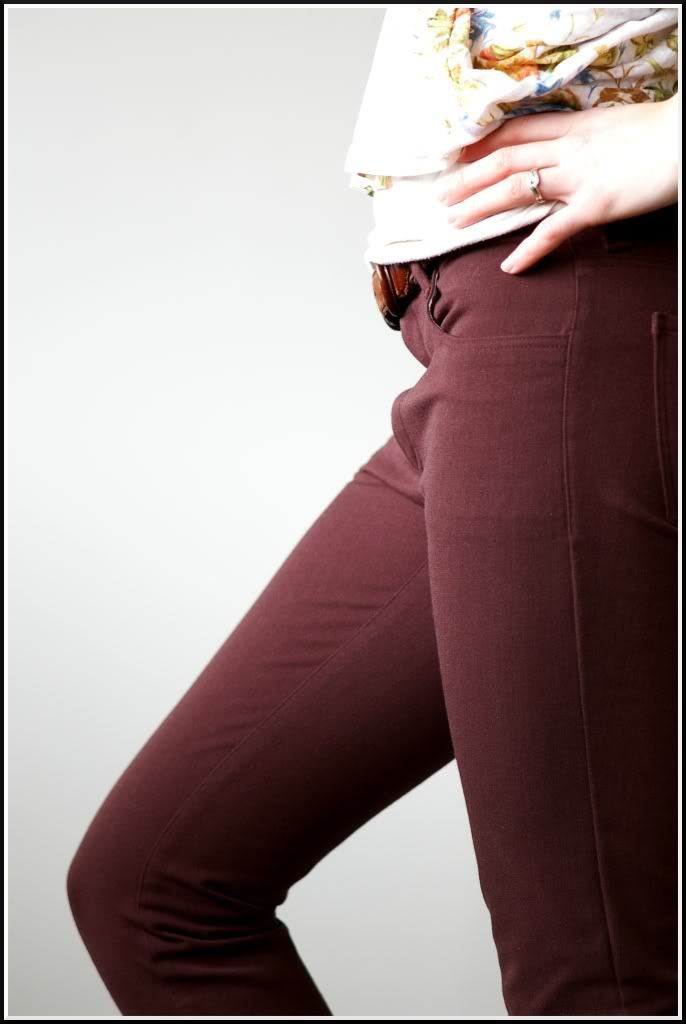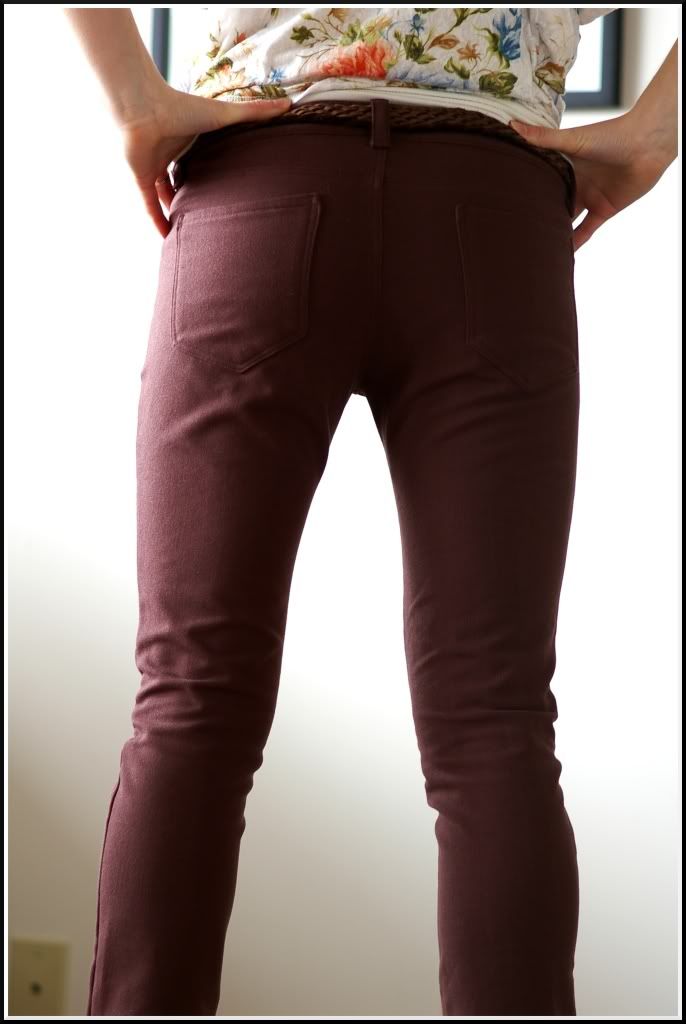 The first pair of pants that I sewed up as a test run were sewn using a suiting material with a very soft, fleecy wrong side and, as it turns out, no stretch.  The fabric was free through a buy one metre and get three free sale in January and seemed, on the bolt, as though it had a bit of stretch, even if it wasn't as much as the pattern called for.  As soon as I cut the pieces and sewed the first seams together, the little bit of stretch there was seemed to disappear. I ended up sewing the side seams using a much smaller seam allowance to allow for this lack of stretch, but the waistband and the fit on the hips turned out to be a little bit big but not substantially enough to alter in any way.  These pants turned out VERY warm and cosy but they are a bit tight at the knees and a belt is necessary to hold up the waistband.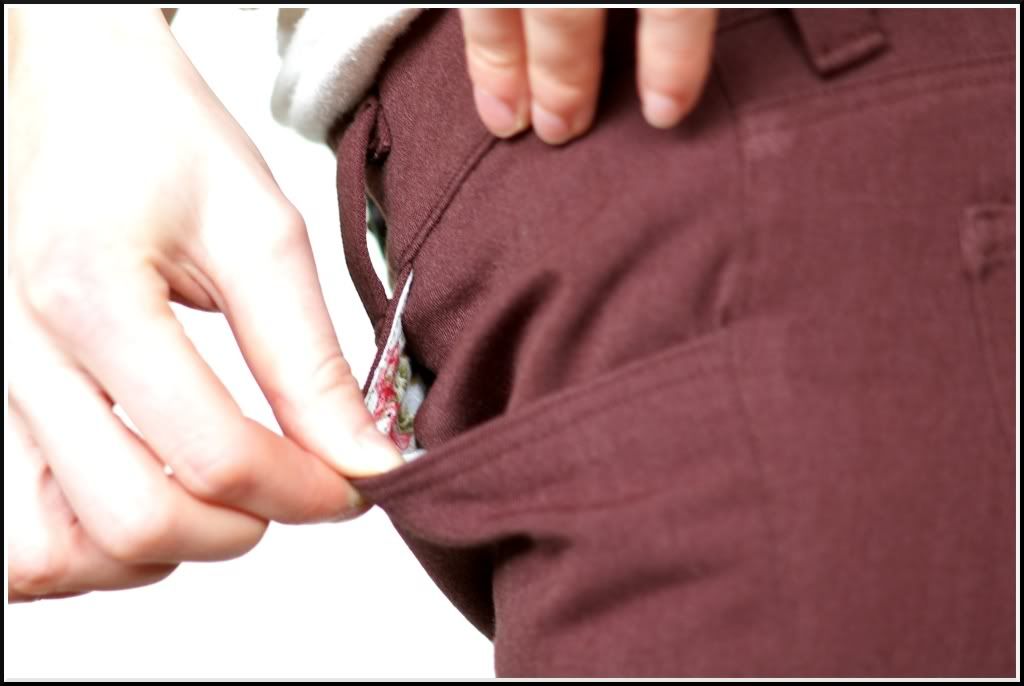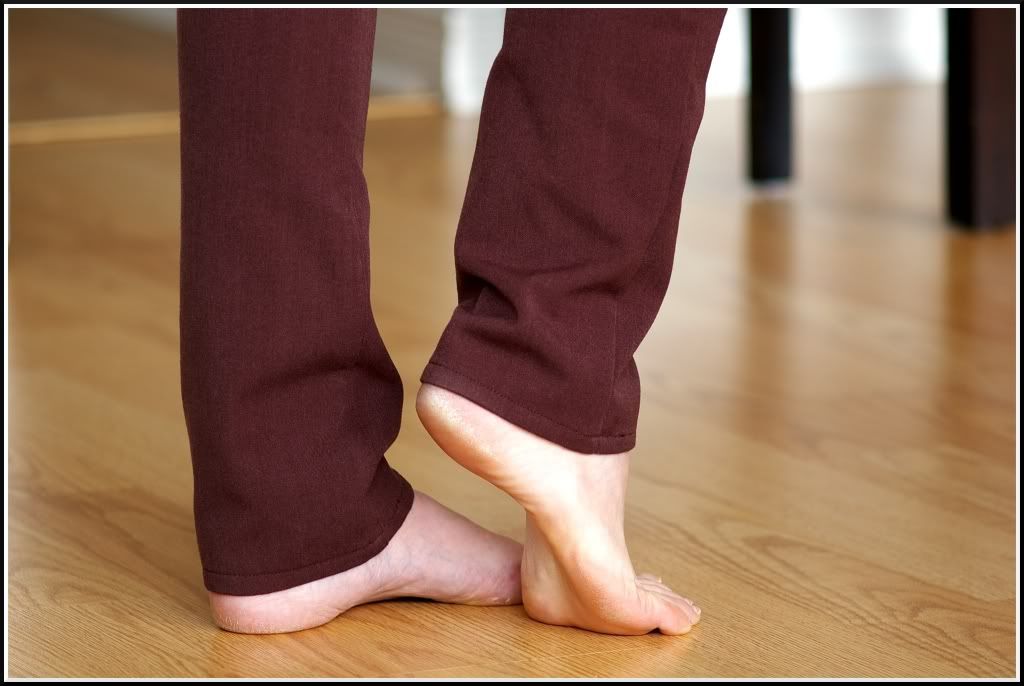 With my wearable mock-up complete, I cut out my denim which was exactly the stretch that the pattern called for.  I decided to cut the same size (8) as the previous pair of pants and then to possibly adjust the waistband as I sewed.  I got carried away while sewing and even hand-stitched the inside of the waistband and completed it with edgestitching before trying them on for the first time – and they were absolutely massive!  I ended up removing the waistband and bringing in about 10cm total on the sideseams in the hip area (the legs fit snuggly and did not need adjustment) and in the centre seam.  After these adjustments, the pants fit very well but I am not quite satisfied with the pocket placement as a result of the alterations.  They are insanely comfortable though, and this makes up for any flaws I feel they have!  I think I would choose these jeans over pajama pants or sweatpants any day!  I suppose, due to the stretch of the fabric and how thin it is, they would more accurately be labeled 'jeggings' rather than jeans.  I am pretty thrilled with them as I have always hated jeans and changed out of them at the soonest moment possible…I might even be happy sleeping in my me-made version!